Environmental Justice
Climate Change Student Conference
March 26 - 28 2004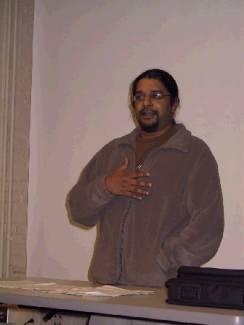 Speaker Series on Environmental Justice And Global Climate Change

Global climate change is already affecting vulnerable communities around the world; those most adversely affected have been, and will continue to be, disadvantaged communities with the least access to resources to either prevent or adapt to climate change. The Climate Change and Environmental Justice Student Group and the School of Natural Resources and Environment at the University of Michigan is planning a conference in March 2004 to bring together scientists, policy-makers, economists and activists from disadvantaged communities around the world to investigate how they are and will be affected by global climate change and what steps can be taken to meet their needs.

A speaker series spanning the year leading up to the conference will introduce the SNRE and UM community to various angles of the complex interaction between environmental justice and global climate change. The series will include three speakers addressing the issue from the science, policy, and community stakeholder perspectives. Each lecture will be followed by a discussion or workshop that involves students, faculty, staff, and community members in designing a vision for a just climate.
Mike MacCracken: November 13-14, 2003

Michael MacCracken was recently elected to a 4-year term as president of the International Association of Meteorology and Atmospheric Sciences (IAMAS). IAMAS is one of seven international associations making up the International Union of Geodesy and Geophysics (IUGG), which is an affiliation of over 50 nations involved in research about the Earth and planets. As president of IAMAS, Mike will also serve on the executive committee of IUGG and as IUGG liaison to the Scientific Committee on Oceanic Research (SCOR). In addition to these responsibilities, Mike is a member of the Assessment Integration Team (AIT) of the Arctic Climate Impact Assessment (ACIA), and has been serving in various advisory roles regarding potential climate change impacts for the Department of Transportation, for Texas A&M's Gulf Coast study, and for the Consortium for Atlantic Regional Assessment (CARA) on Global Climate Change based at Penn State University. He is also a part time employee of the University Corporation for Atmospheric Research.

In 1990 he was chairman of a DOE Multi-laboratory Climate Change Committee that summarized findings on climate change issue in the book Energy and Climate Change, which was prepared in support of development of the National Energy Strategy. During the 1990s, he has been a co-author and contributor to chapters in the assessment reports of the Intergovernmental Panel on Climate Change (IPCC), and coordinated the U. S. Government reviews in 1995. He then directed the U.S. National Assessment on climate change impacts.
Timmons Roberts: January 15-16, 2004

J. Timmons Roberts is Professor of Sociology and Director, Mellon Environmental Studies Program at William and Mary College. Previously he was Assistant Professor of Sociology and Latin American Studies at Tulane University. His teaching and research link social and environmental impacts of global economic restructuring.

J. Timmons Roberts received his B.A. in Biology from Kenyon College and his M.A. and Ph.D. from Johns Hopkins University. He has published over 22 articles in World Development, Social Problems, Economic Development and Cultural Change, Sociological Inquiry, Law and Policy, and several other journals. He has published three books, a reader From Modernization to Globalization: Perspectives on Social Change and Development, Blackwell Publishers, 2000 (with Amy Hite); Chronicles from the Environmental Justice Frontline, Cambridge University Press, 2001 (with Melissa Toffolon-Weiss) and Trouble in Paradise: Globalization and Environmental Crises in Latin America was released by Routledge Publishers in July, 2003 (with Nikki Thanos). His research and teaching interests include Environment, Development, Urban and Latin America. He teaches: Environmental Sociology, Research Design, Global Environmental Issues, and team-teaches Environmental Science and Policy II. He directs the college's undergraduate program in Environmental Science and Policy.
Publications of particular relevance to climate justice include:

Forthcoming. "Social Roots Of Global Environmental Change: A World Systems Analysis Of Carbon Dioxide Emissions." J. Timmons Roberts, Peter E. Grimes, and Jodie Manale*. Journal of World-System Research. Forthcoming July, 2003.

2001 "Global Inequality and Climate Change." Society and Natural Resources. Vol. 14, No. 6, p. 501-509.

1997 "Carbon Intensity and Economic Development 1962-1991: A Brief Exploration of the Environmental Kuznets Curve." J. Timmons Roberts and Peter E. Grimes. World Development Vol. 25, No. 2: 181-187.
Amit Srivastava, Corpwatch: March 4-5, 2004

Amit Srivastava has been involved in social movements for the last 15 years. Amit coordinated the Climate Justice Initiative and International Programs at CorpWatch from 1997-2002. Prior to CorpWatch, Amit worked as Community Organizer with the Asian Immigrant Women Advocates (AIWA) in California, working with low-income, Chinese immigrant women working in the garment industry. He has also served as the National Organizer and Training Director with the Student Environmental Action Coalition (SEAC), the largest student environmental organization in the US at the time. His writing has appeared in The Toronto Star, The Montreal Gazette, and The San Francisco Chronicle and Amit has appeared on various radio and TV outlets, including CNN and BBC